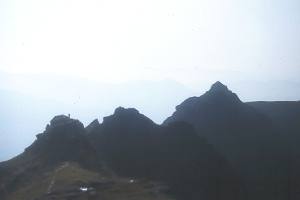 We spent a September weekend at Torridon Youth Hostel and climbed Liathach and Ben Alligin. This shot (just)shows my friend scrambling over the last pinnacle on the ridge. It was a beautiful day spoiled only by the fact that I left my car keys on the first peak and we had to reverse the whole walk to get them back!!

Distance covered: 8 miles
Height gained: 3800 feet
Time taken: 7 hours - because of the keys!