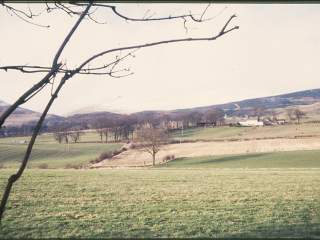 We started this walk one sunny January morning in the small town of Dollar, nestling at the foot of the Ochil hills in Central Scotland. It took us up through the spectacularly narrow defile of Dollar Glen with its myriad waterfalls, past ancient Castle Campbell and over a hill track to Glen Devon. From there we followed the main road round into Yetts o' Muckhart and thence by a public footpath back to Dollar. This picture was taken from the footpath looking North to the Ochils.

Total distance: 12 miles
Height gained: 300 feet
Time taken: 5 hours.