The English Lakes
I first visited the Lake District in 1978. It was an extended tour using Youth Hostels. These are so plentiful and of such a good standard that I would not hesitate to recommend them to the pedestrian tourist.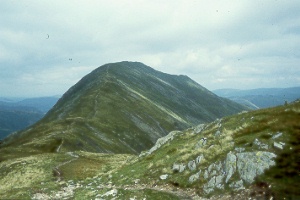 St Sunday Crag from Fairfield
We arrived by rail and wandered up to Ambleside for our first night before heading over Fairfield and St Sunday crag to Patterdale. This was my walking partner's first taste of long distance hillwalking carrying a full pack and he was footsore and weary by the time we arrived at the hostel. A drink in the local hostelry and a good bar meal soon raised the spirits however.
Next morning we set off up Helvellyn by way of the famous Striding Edge. Our confident manner fooled several other parties into blindly following us - this was a mistake because we were lost! - eventually a small procession of amateur hillwalkers scrambled wildly up a shallow gully well to the right of the correct line!
Once on the summit we left the crowd behind and strolled out over the succession of tops North of Hellvellyn before dropping down to the hostel at Thirlemere.
It rained next morning so we cheated and took a bus to Keswick where we explored this, my favourite Lakeland town. It always manages to retain its country feel even in the height of the English holiday season. (It also has the 'TV Car' exhibition where you can see the Pink rolls out of Thunbderball, various James Bond cars and the talking car our of Knight Rider.
The rain gradually eased off and we set off on foot again down the length of Derwent water to Rothswaite YH ready for the next days long walk.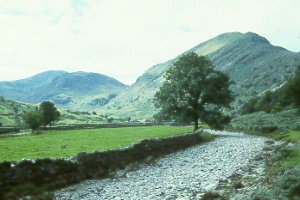 Great and Green Gable
This was to be one of the longest walks of the trip, up by Great Gable over to Bowfell and down via Green Hole to tiny Dudden YH. There we went to bed in the rather eery surroundings of a dorm decorated with miscellanious stiuffed birds and animals. We shared the hostel with two young lads of about 10 who were doing an overnight trek on their own having been dropped off by their father. I was amazed by their confidence and culinery skills as their self cooked mneal far surpassed our 'heat it and eat it' ready made extravagence.
The low point of the walk came in the crossing from Duddon to Coniston by way of the 'Old Man'. It was dense cloud and wondy and navigation was tricky to say the least. we eventually made it down safely and retred to a pub to change out of sodden clothes and devour a large pub lunch. Bloated but happier we bussed it down to Hawkshead and strolled the mile to the hostel.
It was time to go home, so we ambled along country lanes to the Sawrey villages and the ferry to Windermere. there we caught the train home to Glasgow and reflected on a great 5 days walking. The Lake District had bitten us and we have both been back several times either separately or together.
---
Other trips have included a winter ascent of Skiddaw, a solitary day on Scafell Pike and a short, fast ascent of Sharp Edge. Hellvellyn has seen me twice more including one abortive attempt when we got soaked. My stretchy Rohan breeches reached my ankles such was the weight of water lodged in them.